black and white wedding photo
Where New York Wedding Photographers Love to Take Photos

Want to avoid the tourists but still capture some NYC magic? Longtime New York wedding photographers recommend these 10 spots — plus one secret photo tip.




Is there anywhere to take better wedding photos that New York City?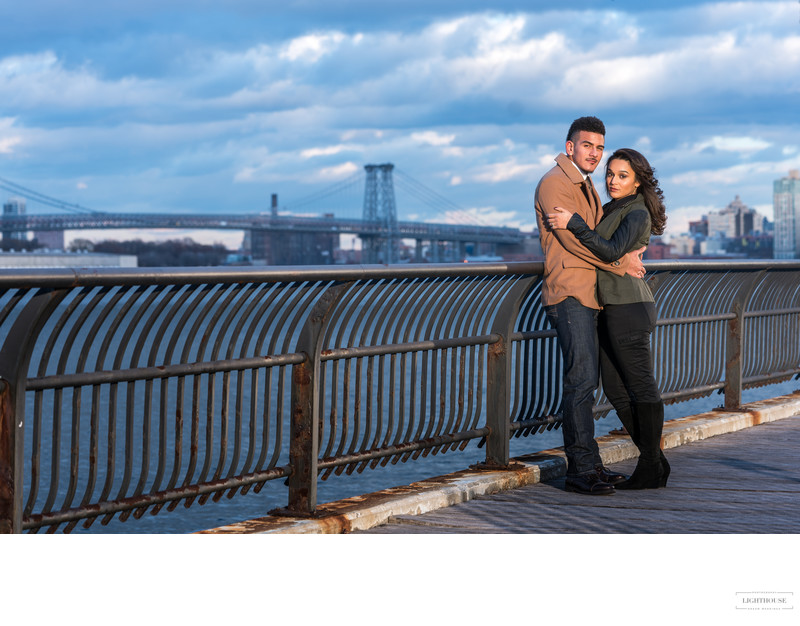 In the city that never sleeps, it can feel like every street corner offers a photo op or an iconic view. But as longtime New York wedding photographers, we've found a few favorite spots over the years where we know we can capture photos that you'll treasure for years to come.
Local wedding photographers know the best photo spots
Most lists of places to take wedding photos in New York City will include spots like Grand Central Station, the Brooklyn Bridge, Bryant Park and Times Square.


New York wedding photographers know that these locations
are often overcrowded. It's hard to get the iconic portrait you want on the Brooklyn Bridge when you're dodging tourists or to find a good spot in Bryant Park when it's taken over by a seasonal craft market.

That's why choosing a local wedding photographer for your New York photos is worth it -- we know the best photo spots where you can avoid the worst crowds, but still get a New York wedding photo that you'll treasure

So where do we like to go? We've rounded up our 10 favorite wedding photo spots in New York CIty.
Our favorite wedding photo spots in NYC

1. Bethesda Fountain and Terrace

Central Park is full of beautiful places for your wedding photos, but one of our favorites is the iconic Bethesda Fountain and Terrace. The beautiful terrace sweeps out to the fountain, and people here are generally so relaxed and calm that they're more than willing to step aside to watch newlyweds smooch in front of the camera. And if you want some privacy, we can come in the early morning, when the only other visitors are walking their dogs.

2. Belvedere Castle

Any New York wedding photographer knows that if you want stunning Central Park views in your portraits, you should head to Belvedere Castle. This favorite photo spot looks over the Great Lawn, the Delacorte Theatre, the Ramble, and the Turtle Pond. And unlike many castles around New York, you don't need a permit to take your wedding photos here.
3. Conservatory Garden

The Conservatory Garden is the only real formal garden in Central Park, and it's a perfect place for romantic wedding or engagement portraits. The whole garden is six acres, divided into separate French, English, and Italian gardens. It's also a designated Quiet Zone, making it a perfect escape from the bustle of the rest of the city. And as local wedding photographers, we know to warn you ahead of time: you will need a permit to take photos here.

4. DUMBO's Water Street at Washington Street

If you head Down Under the Manhattan Bridge Overpass (DUMBO), where Washington Street meets Water Street, you'll find one of the best views in NYC. Here, Washington Street perfectly frames the Manhattan Bridge, with the NYC skyline in the background and the Empire State Building under the bridge. This spot is a must on any New York wedding photographer's list.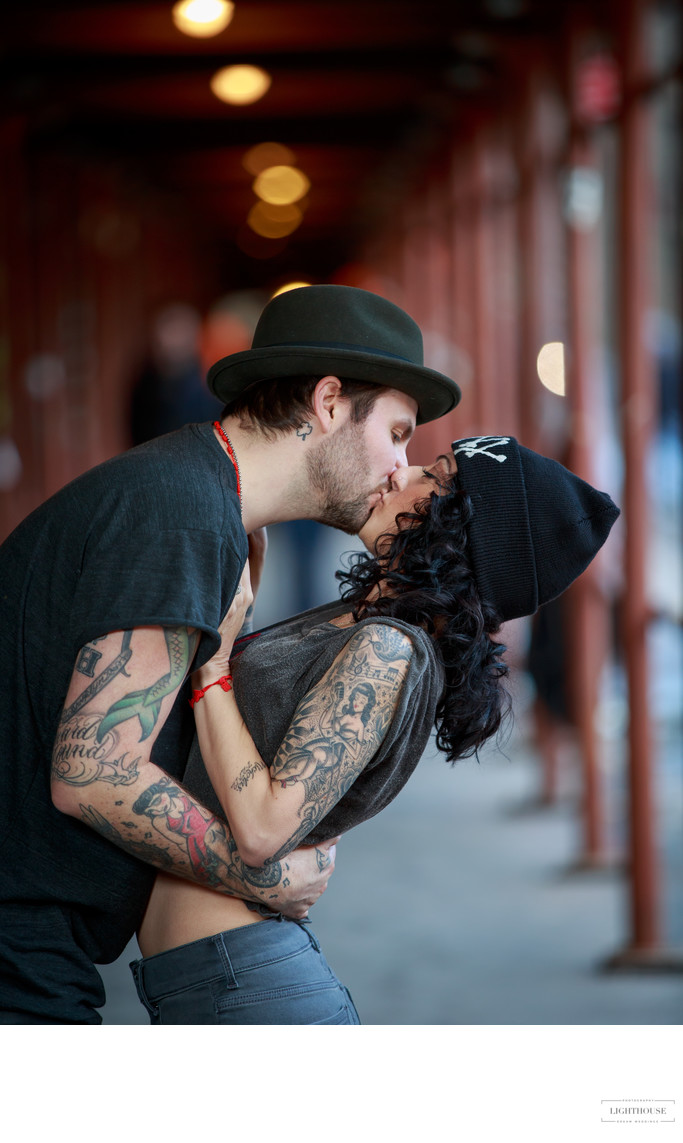 5. Sunset Park

Another great spot in Brooklyn is Sunset Park, where you can get beautiful photos with a backdrop of the Manhattan skyline without dodging crowds. As the name suggests, if you visit in the evening, you won't be disappointed: this is a New York wedding photographer favorite to get sunset views of the NYC skyline.

6. Top of the Rock

The Top of the Rock, at Rockefeller Center, is often crowded with tourists. But it still makes our list of favorite spots for New York wedding photos because everyone here is taking turns to get their photos. It's easy to get an iconic shot, looking over Central Park and the Manhattan skyline, without a bunch of extra bodies in the background. It's open every day of the year, and if you buy a VIP ticket you can skip the lines to get to the top.

7. The High Line

New York wedding photographers were thrilled when the High Line opened up. Once an elevated train track, the High Line is now a public garden with some of the best views in New York. If you walk the whole thing, you'll be able to get photos with the Manhattan skyline, the Empire State Building, the Statue of Liberty, and tons of street art.

8. New York Botanical Garden

The famous New York Botanical Garden is located in the Bronx and well worth a visit, with indoor and outdoor displays of beautiful flowers and plants. You will need to call ahead of time to schedule your photo session — and when you do, they'll be able to tell you exactly what's in bloom so we can plan your ideal photo session.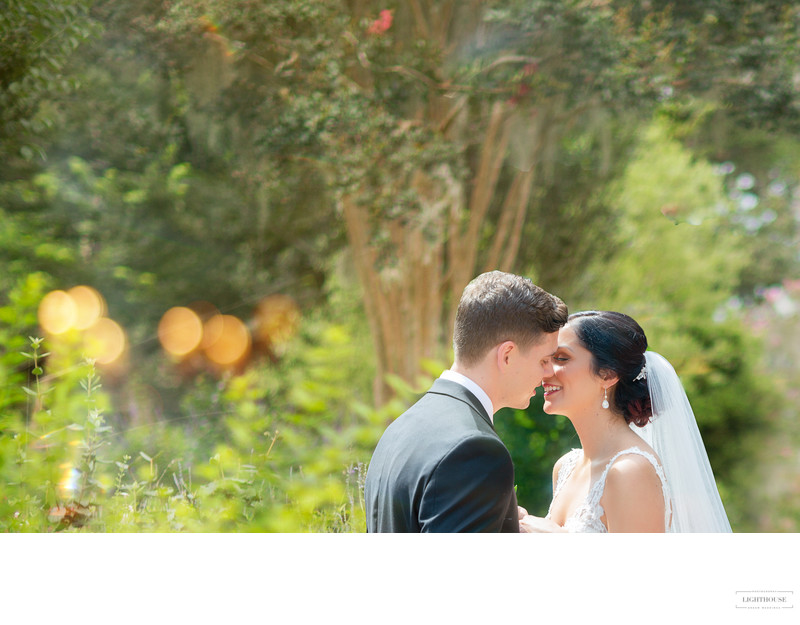 9. Queens Botanical Garden

The Queens Botanical Garden is a gem that local wedding photographers love to visit. Less well known than other gardens around the city, this spot is 18 acres of beautiful photo ops, including the Rose Garden, Arboretum, and Fragrance Walk. You will need to apply for a permit to take photos here — and if you want, you can get a special permit for their exclusive Wedding Garden.

10. The Boathouse at Prospect Park

The best known boathouse in NYC is in Central Park, but that one can get crowded quickly. Instead, we prefer to head to Brooklyn's Prospect Park. The entire park is beautiful, and the boathouse itself is a little known treasure. No crowds, and no permit required to get beautiful wedding and engagement photos.
The secret New York wedding photographers know
There are dozens of beautiful photo spots throughout NYC, but local wedding photographers know that if you're taking any NYC wedding photos you need to plan for one important thing.

Weather.

No matter what season your wedding happens, New York weather can be unpredictable. Whether due to heat, rain, or snow, you may suddenly find yourself unable to stay outside. So NYC wedding photographers know to always have a permit for an indoor location, just in case.

Some of our favorite backup options are Brookfield Place in Battery Park City, the New York Public Library, and the Frick Collection. In each of these locations, we can continue capture iconic NYC photos. And once we've had a little time to recover, or the weather has improved, we can venture out to hit the other NYC spots on your list.




DO YOU HAVE ANY QUESTIONS?