Celebrity wedding photography
Wedding Photographers Q&A: Engagement Photography Tips

The reasons to consider engagement photography, plus a wedding photographer's tips to get the most out of your engagement session.


For couples dealing with the stress and expectations of planning a wedding, engagement photography can seem like just one more thing to worry about. Many couples are tempted to skip it all together since you'll end up with wedding photos anyway.

Are engagement photos really necessary?

Well, there's isn't much about planning a wedding that is "necessary," other than saying "I do" when it matters! But there are several reasons why engagement photography is something special that you can your partner can do together.
Why engagement photography is important
If you truly don't want engagement photos, don't let anyone pressure you into getting them! But if you're just unsure why engagement photography is important, here are a few reasons:

• If most of your photos together were snapped with someone's phone, engagement photos give you high quality photographs to treasure while still being more casual than most wedding portraits.
• Engagement photos are a chance to do a "test run" if you're unsure about which wedding photographer to book.
• You can use engagement photos for engagement announcements or save the dates.
• You're engaged! That's a beautiful milestone that should be celebrated with more than just planning a wedding. Take some time to focus on each other and celebrate this new chapter of your lives.
Engagement photography tips from wedding photographers
Ready to get your engagement photos taken, but feeling a little nervous about getting them just right? Don't worry, we've got five tips that will help you get the most out of your engagement photography session.
1. Know your style
Do you want posed portraits? Candid photos? A mix of the two?

Do you want the option to change into multiple outfits and visit more than one location? Or are you happier wearing your everyday jeans and taking photos in a local park?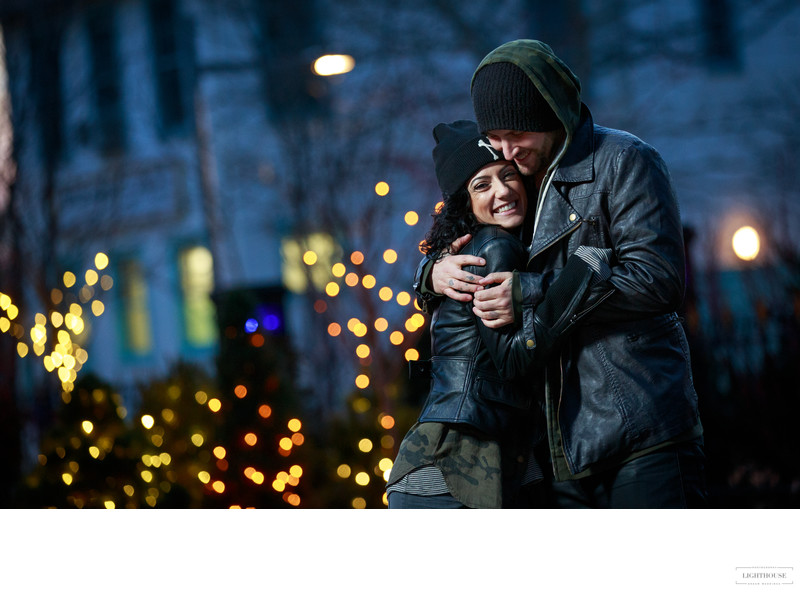 Think about your personal style — and your style as a couple — when planning your engagement photography. Knowing your preferences will help you make decision that feel comfortable to you, which will in turn help you stay relaxed and present on the day that you are actually taking photos.
2. Keep your head up
If you're not used to having someone point a camera at you, engagement photos can feel strange! Or, if you and your sweetheart tend to get silly and goofy when you're together, you may find yourself looking down, covering your face, or turning your back to the photographer.

It's great to have fun together, and it's totally natural to feel a little shy. You don't have to look directly at the camera — in fact, if you're taking casual, candid shots, most of the time you shouldn't! But the one thing you should do is keep your head up. That way, no matter what happens, your photographer will be able to capture your face and your interaction with your partner.
3. Go somewhere you can explore
One of the best ways to feel relaxed in front of the camera is to have something to do. Pick a location where you can wander, explore, and generally have fun. Whether you're doing candid shots or posed portraits, a fun environment will lead to more creative and interesting photos. And if you're feeling a little camera shy, exploring — whether at a park, playground, bookstore, or somewhere else you love — will keep you from feeling uncomfortable.
4. Wear something comfortable
Another important aspect of feeling comfortable? Being comfortable!

Whether because you wore brand new shoes that are giving you blisters, your outfit doesn't fit quite right, or you aren't dressed for the weather, being physically uncomfortable will distract you and lead to awkward photos.

Choose something easy to move in that makes you feel confident and comfortable. Plan your outfits beforehand so you're not scrambling on the day of your photos, and be sure to try them on to avoid any surprises!
5. Focus on your partner
The best way to feel comfortable? Focus on your partner and don't worry about the camera.

Your engagement photography session is a chance to celebrate a major transition in your life, and unlike a wedding, you don't have to share it with anyone else. If you find yourself feeling shy, awkward, or grumpy during your engagement photos, spend a moment refocusing on your partner and how excited you are to share your lives.

As any wedding photographer will tell you, two people in love are the magic ingredient for beautiful photos.