Hollywood wedding photographer
How To Shoot Weddings


Mastering Your Wedding Photography Workflow The key word here is how to photograph a wedding. Gear is secondary to your approach, portrait and composition.

Photography weddings are a lot of hard work to do. It's also very time consuming when you look at all the aspects involved.

From finding and communicating with a happy couple to handing over the images. It's a non-stop job for days. Weeks, even.

It's very handy to see a workflow written down. In particular, to give you an example of all the steps involved in wedding photography.

This also helps you understand where your time is going. Which might help you explain why you charge $2000 + dollars to capture such a special event.


Having a workflow is a great way to prepare for wedding photography Photography checklists are a great way to help you see what pictures are expected from wedding photography.
When I tell a stranger that I'm a wedding photographer, I sometimes get a look like that. You know, the one that says, Oh, you're going to push buttons on a Saturday and have nothing to do for the rest of the week? That's got to be nice.
But wedding photography (as most independent photography) is never a one-day process. Wedding photography requires contracts, meeting potential clients, making engagements, running a business — and that's just what happens before the actual wedding.
The workflow of wedding photography covers everything from the initial contact to the delivery of the final edited images — and sometimes even beyond.
Photographers entering the wonderful, insane world of wedding shooting often don't know where to start. When is the contract going out? When are you supposed to meet a couple — and is an in-person meeting even necessary? How long does it take to edit your photos?
This guide to mastering the workflow of wedding photography is for any photographer with these questions.
The list will help you know what to look for when it comes to research and location scanning.
My wedding photography business isn't your wedding photography business. Just as two photographers would get two different sets of images even if they were photographing the same couple at the same location, wedding photography workflows are not a one-size-fits-all deal.
I'm sharing what works for me — but it's important to know that your workflow of wedding photography might look different, and that's fine.
Before you start defining your workflow for wedding photography, start thinking about your own work, your own schedule, and your own lifestyle. Ask yourself a few questions: what is the goal of my wedding photography business?
What other obligations do I have and how is this going to affect my timeline?
How many weddings do I book, and what is the ideal number of weddings to book every year?
What area am I serving, and what kind of weddings do I have here?
What's the typical client of me?
What's my budget for business?

You may not have all the answers yet, especially if you're just starting out. The first essential step is to take a look at your style, your business and your schedule in order to develop a workflow that works for you.
For example, wedding photography is not my full-time job — I am also a tech writer writing about photography. That means I don't promise my clients that they will have a fully edited gallery a week after their wedding. No sleep and gallons of caffeine are not good for my health or the quality of my work.
Because weddings are just part of my job, that means that I book fewer weddings, and I have a smaller budget.
Starting with a general idea of your work, your goals and your schedule will help you build a workflow of wedding photography that fits your work. And don't worry — you don't have to chisele your workflow into stone. You can adjust as your business grows or as your lifestyle changes.
Use our article as an inspiration and a handy guide to what you should be photographing.

By going through our checklist, you will be able to focus on the next image.
Checking the list of images is a great way to know what else is there to capture for your wedding photograph. Some couples ask to meet me in person before booking, other couples I meet sometime between booking and before the actual wedding.
Occasionally, I'm going to meet the bride and groom for the first time on their wedding day, and I'm going to run this meeting by phone or email. This usually only happens when the engagement is short or the location is outside my usual area.
During this initial meeting, I will answer any questions that a couple may have. I'm also going to run through what a typical wedding day looks like for me, and give them tips on how to schedule enough time for photos.
I always recommend at least an hour, with the exception of any travel time and time necessary for any reception lines and other traditions. And I always recommend more time for larger families.
I also let the bride and groom know that the more time they plan for formals, the more poses they will have to choose from.
At the same time, I'm trying to learn a little about the bride and groom and their wedding. I'm asking how they met. I'm asking about their wedding colors and style and their wedding party.
The photographer is the bride's vendor and the groom spends most of his time on the actual wedding day. The initial meeting can make the couple feel more comfortable around me.
Signing the Wedding Contract The wedding contract is the only paperwork I need beforehand. While I have a sheet with times, addresses, contact information for clergy and other details, many brides and grooms don't have all the details ironed out this far in advance.
The contract details my duties and fees along with what I deliver. My contract also sets out what a couple can do with their images (i.e. they can share them on social media with credit, but they can't sell them on a stock photography website).
The contract also details what happens when a couple cancels or changes their date. And what would happen if the medical emergency or the act of God prevented me from shooting at the wedding? It hasn't happened yet, but this is a key detail to be included in the contract.
With the marriage contract, I also require a small percentage of the wedding photo fee up front. This non-refundable fee applies to the amount of time I spent on the early part of the wedding photography workflow if the couple, for some reason, has to cancel.
It also guarantees that I will not book anything else on the same date. Once I have a contract and a deposit, that question mark comes out of my wedding calendar and I'm booked for the full day.
Do you need software for client management?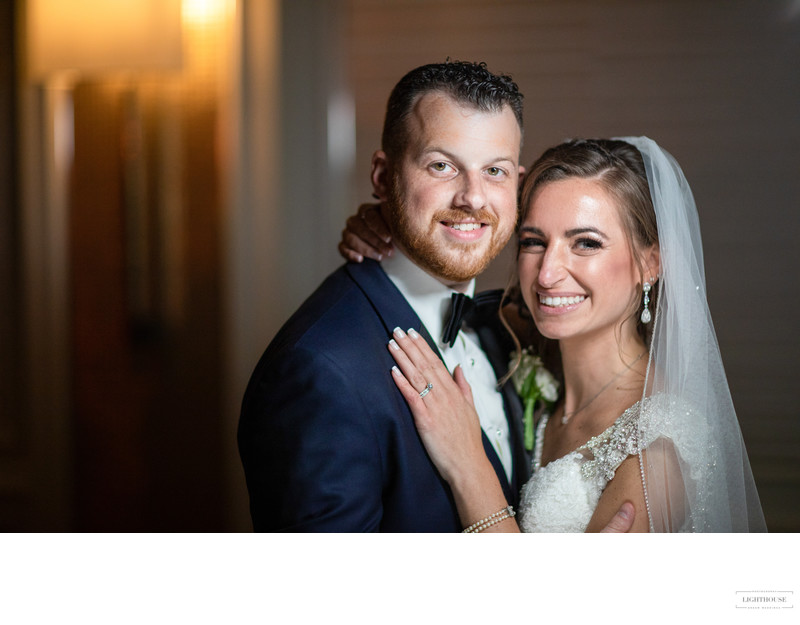 Software can simplify the booking process, keep your calendar, leads and other information in one place and allow clients to book online. For large studios, the cost of the software is probably worth the time saved with a simpler booking system.
As a small studio, I'm in a position to manage the number of weddings I shoot without. Software is, however, part of my growth plan when I need to make bookings even easier.
Wedding Day Wedding Day focuses on, well, shooting the actual wedding. But there are also a few workflow items that fall on the big day.

Double check the contents of your camera bag.
Arrive early enough to explore the location to see photo locations, if you haven't already.
Photograph the wedding, from getting ready for the reception. I've been photographing candids all day and formals and details in between. (Here is a checklist of typical photos included on the wedding day).
Once everything has been wrapped up, congratulate the bride and groom.
Download photos at home. Make sure that photos are stored in at least two different safekeeping locations.
Share a sneak peek with a favorite couple image, usually the night of the wedding or the day after the wedding.


DO YOU HAVE ANY QUESTIONS?